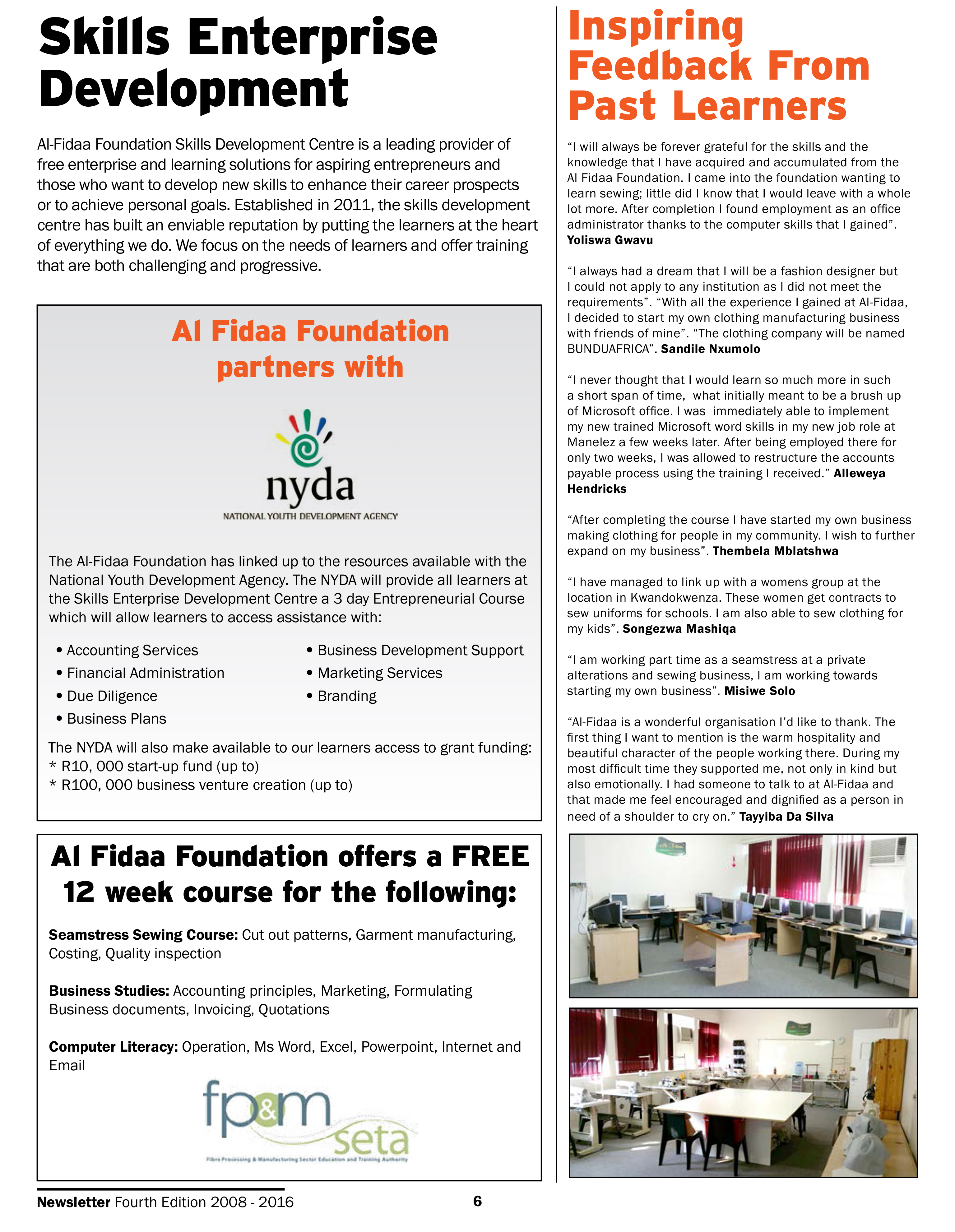 "The eastern cape's labour absorption rate was one of the lowest of all provinces at 39%"

"The eastern cape has the highest rate of joblessness in a country where unemployment rates reached levels last seen before the recession in 2008"
The Eastern Cape has always been a province marked by high unemployment. Divorce, single moms and the ever increasing drug scourge has brought the social conditions of communities in chaos. Al Fidaa Foundation has embarked on a mission, to empower the helpless with basic skills to become independent individuals. Your contribution will cause a desperate mom to be able to stand up in respect in an otherwise harsh economic world. Al Fidaa Foundation recognises the need to skill individuals for future stability and independence. We have a list of applicants who desire sponsorship to fulfil their dream of financial independence. Al Fidaa Foundation has sponsored individuals in the fields of security, nursing, plumbing, welding, and accountancy. Be part of the big picture; sponsor an applicant for the future of a better future for all. For more enquiries contact the office at 041 484 1288 during office hours.
Al Fidaa Foundation has also opened an Enterprise Centre to educate individuals with sewing and computer education providing a platform to start their own business or to help an individual search for a job. The centre operates from Monday to Thursday from 9:00am to 2:00pm. Volunteers are most welcome and we do offer the public an opportunity to 'Teach a Skill" to assists individuals eager to stand independently in communities. For more information please contact our office at 041 484 1288. FOR MORE INFO CLICK HERE
Every week from Monday to Thursday +- 10 ladies are transported to the skills training centre. The training is presented by Sindiswa Zokufa who achieved her qualification at Russell road college in the soft furnishing practical N3 course. Over a period of 8 weeks the learners are taught the very basic of sewing to a stage where they can produce their own garment from start to finish. Once they are completed with the course, their skills can be utilised to acquire a job in the garment manufacturing business sector or start their own small business.