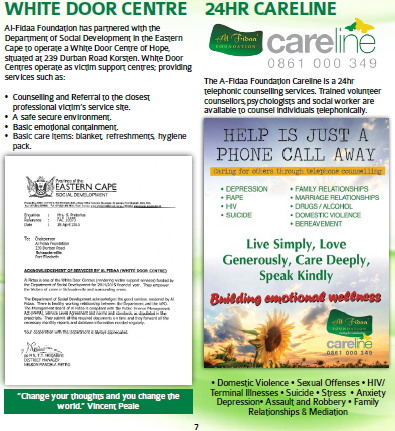 Introduction
The crimes against women and children continue to impact on their rights: the right to be treated with fairness and with respect for your dignity and privacy; the right to protection and the right to assistance. In South Africa the levels of crime and violence are seen as one of the biggest threats to the consolidation of democracy and the future stability of the country.
Background
In response to increased reports of crimes against women and children, the Victim Empowerment Programme (VEP), a Programme of the National Crime Prevention Strategy (NCPS) was announced in May 1996 and officially launched in August 1998, however, full implementation only started in January 1999 after a lengthy process of obtaining approval of the inter-sectoral business plan. Prior to 1994, needs of most citizens were neglected and social awareness around crimes involving sexual and domestic violence was very low. The strategy was developed to address the high rate of victimization in South Africa.
VEP has to contribute to building safe and peaceful communities, strengthening a human rights culture and provide more effective, multi-sectoral, co-ordinated responses to victims of crime and trauma particularly women and children.
Vision
A society in which crime prevention is prioritised and the rights and needs of victims of crime and violence are acknowledged and effectively addressed within a restorative justice framework.
Purpose
To develop, strengthen and monitor integrated victim empowerment policies, programmes and services at all levels through strategic partnerships within and between government and civil society. Specific emphasis is placed on the prevention of victimisation, providing support, protection and empowerment for victims of crime and violence, with a special focus on vulnerable groups.
Goal
The aim of the VEP is to provide a holistic and effective person centered support service for victims of violence and crime. Interventions of both preventative and curative nature are applied.
White Door Concept Defined
The Department of Social Development in collaboration with other stakeholders such as Health, Justice & NPA, SAPS, Education, Correctional Services, Civil Society Organizations aim to provide integrated, responsive and quality service to victims of crime and violence.
All these Centres have mostly volunteers who solely depend on government and corporate funding for the programme, capacity building and stipend. The utilization of volunteers forms an integral part of the programme.
Definition of a White Door Centre
A white door is a localised victim reception centre that is located as close to the community as possible. It functions as a short term safe space that victims can access if they need to wait for professional services, including the police.
Services Offered
A white door site is a short term safe space and the victim should not remain in the site for more than three to six hours. The site operates as a localised reception-assessment-referral (RAR) site. As these sites are largely manned by community members a clear process flow must be put in place to ensure that the WD can link to the closest professional site.
Due to the short length of stay at the WD, limited services will be offered in terms of counseling etc. The victim will only be contained emotionally and then referred out for professional services. In terms of psycho social interventions, only very basic non-professional emotional support will be offered.
The following is a summary of services that will be offered at the WD site:
A safe secure environment.
Basic emotional containment.
Referral to the closest professional victim's service site.
Basic care items, such as a blanket, refreshments and clothing.
White Door Center Expo
Human Trafficking Awarness